Holden Beach Restaurants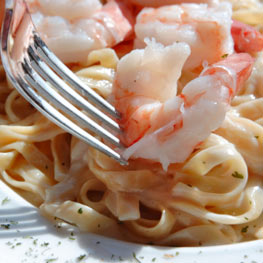 Part of the joy of being on vacation is getting a break from the kitchen! No matter what you are craving Holden Beach, NC has a place that can satisfy both your taste buds and your budget. We have everything from sandwich shops to waterfront grills with amazing views. You'll be sure to find something you'll love!
Be sure to sample some of our fabulous and fresh local seafood while you are here – there are several great seafood restaurants to choose from.
Of course, no trip to the beach is complete without ice cream, so be sure to check out the many places in the area where you can get a scoop, or three! Here are just a few listings for great local places to try!
The View at Brick Landing is the only restaurant in the Holden Beach, NC area situated on a premiere golf course overlooking the intracoastal waterway.
Coastal residents and visitors of both North and South Carolina routinely visit The View at Brick Landing to enjoy fresh seafood, exciting american traditional dishes and breathtaking views. What makes The View at Brick Landing so unique is not just its spectacular location, but the premium cuisine. With a focus on fresh and local cuisine, The View at Brick Landing brings a new and exciting take on dining out to the Ocean Isle Beach area.
With a wide range of dishes to satisfy all types of patrons, Brick Landing has become a staple of Ocean Isle Beach dining. From the deck, you can enjoy a breathtaking view of the 18th fairway, that boasts panoramic views of the intracoastal waterway. Enjoy the sights and sounds of the Carolina coast from our luxurious dining rooms or multiple patios.
The Brick Landing Plantation features a locally renown Sunday Brunch. Hundred from near and far join us on Sunday for their local favorites. The brunch features crisp hickory smoked bacon, maple flavored sausage link, corn beef hash, jumbo shrimp with chorizo gravy, cheese filled blintzes, cheddar cheese grits, hash brown casserole, assorted breads, assorted pastries, assorted biscuits, fresh fruit display, yogurt parfait station with seasonal fresh berries and granola and much more! Included in the brunch are made-to-order pancakes and french toast. Come by and hear what the locals are raving about. 910-754-2745 [email protected]. 1882 Goose Creek Rd SW, Ocean Isle Beach, NC 28469. Visit The View Online

—————————————————————————————————————
Inlet View Bar & Grill has become a favorite destination for both locals and vacationers. Many visitors make Inlet View a must see and do time and again.
All food is prepared on site and fresh, using only the finest ingredients, which may take a little longer because it is cooked to order. In addition, the seafood is 100% wild caught. This ensures that the seafood they use is indeed fresh.
Enjoy Breakfast, Lunch and Dinner. The Breakfast Menu includes all of your morning classics. For lunch and dinner, there's something for everyone: salads, sandwiches, appetizers, burgers, wings and of course lots and lots of fresh seafood. Enjoy a cocktail in the full-service bar. We offer spectacular views of the Shallotte River, IntraCoastal Waterway and Atlantic Ocean. Inlet View Bar & Grill  |    Visit Webpage
1800 Village Point Road, Shallotte, NC 28470 | 910-754-6233
————————————————————————————————
Archibald's Deli
2991 Holden Beach SW
Supply, NC 28469
910-842-6888
Captain Pete's Seafood 
103 South Shore Drive
Holden Beach, NC 28462
(910) 846-9988
Castaway's Raw Bar & Grill
112 Ocean Boulevard West
Holden Beach, NC 28462
(910) 842-5743
Mama Brava's Pizza Pasta & Sub
117 Holden Beach Rd,
Shallotte, NC 28470
Patronie's Pizza
2625 Holden Beach Road Southwest
Supply, NC 28462
(910) 842-7900
Provision Co.
1343 Cedar Landing Road Southwest
Holden Beach, NC 28462
(910) 842-7205
Sharky's 
61 Causeway Dr,
Ocean Isle Beach, NC 28469
(910)579-9177